Is there any food that's more of a summer time treat than ice cream? It's delicious and helps you cool off during those hot summer months in Syracuse, Oneida, and Liverpool. This year, when you've got a craving for something sweet, visit one of the best ice cream shops for 2018.
Byrne Dairy
Since 1933, Byrne Dairy has been providing quality dairy products to upstate New York. Today they have dozens of locations serving milk, eggs, and ice cream to families all over the area.
While they've become a routine stop for breakfast, lunch, and coffee in neighborhoods across the region, they've always remained focused on serving delicious ice cream.
There's savory flavors like maple walnut, fudge swirl, and choco holic. You even have a choice for what kind of dessert to have. Try the Cookiewich, their cookie sandwich is made only with local cream.
They're family owned and operated to this day and use only local farmers to produce top notch ingredients.
For the latest updates on their new flavors, menu items, and events, follow them on Facebook.
Meadows of Cicero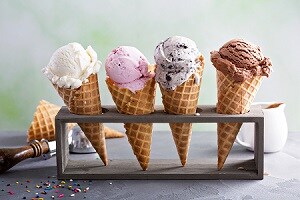 Looking to grab an ice cream cone on the go? Then pull up to the drive thru at Meadows of Cicero.
All their frozen custard is freshly made on site. The end result of their passion and hard work is a dessert that's both denser and creamier.
They've been serving tall cones out of both their walk-up store front and drive thru for decades. You can always swing by for some variety. There's always two flavors of the day, plus traditional dishes like hot fudge, cherry, and butterscotch sundaes.
You can also get a classic root beer float or try one of their arctic swirls with cookie dough, chocolate chip, or peanut butter cup. If you're looking to try something a little different, sample some of their Italian ice or some gelato. They can also bring their flavors to you. Get a full-scale ice cream and custard bar for your next party or event. Just choose your flavors and the Meadows car will deliver it to you.
To learn more about their catering and stay up to date on their ever-changing flavors of the day, follow Meadows of Cicero on Facebook.
Peter's Polar Parlor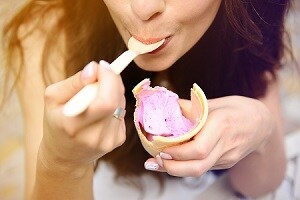 Ever long for the nostalgic feel of a small, vintage ice cream stand? Well then, you're in luck. Peter's Polar Parlor has been serving up delicious frozen treats for over 40 years.
With ice cream in every variety from cones and cups of hard, soft serve, and frozen yogurt, you're sure to find your favorite flavor.
You may even find a new one when you try one of their milk shakes. They go beyond the traditional chocolate, vanilla, and strawberry. Try a cherry coffee, root beer, or black raspberry milkshake. You can even add fresh fruit to it.
On top of their decadent sundaes, you can also get custom made cakes or freshly made pies like the Oh So Oreo, Cookoo For Coconut, and Positively Peanut Butter.
Follow Peter's Polar Parlor on Facebook to find out what their specials are and keep up with their rotating flavors.
Two Scoops or Three?
This summer, when you're looking to cool off and want the sweetest desserts around, visit one of the best ice cream shops for 2018. All three of them help provide Syracuse, Oneida, and Liverpool with a great way to enjoy summer to the fullest.