Father's Day is a time to bond with your Dad and show how much you appreciate him. If you're looking to treat Dad for a game of golf For Father's Day, check out one of these fun and beautiful courses.
Hickory Hill Mini-Golf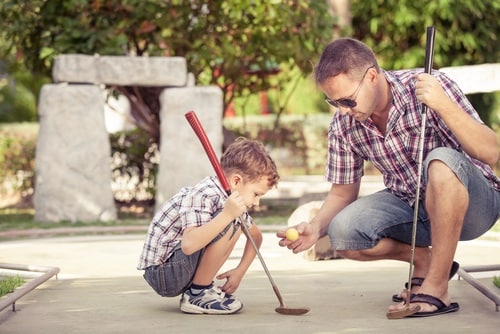 Looking for a fun game of mini-golf this Father's Day? Check out Hickory Hill Mini-Golf. This 18-hole course was designed by the mini-golf masters at Harris and is fun for the whole family.
You'll be at the center of so many entertainment options when you putt through 18-holes here. Their ice cream stand is always serving up refreshing new favorites to help you cool off on a hot day.
If you and Dad want to work on your long game after a round, head over to the 350-yard driving range next door. You can even play the main course if you want to bring your long game and short game together.
They're committed to making sure you enjoy your summer to the fullest. You can even refill your grill's propane tank at their refilling station.
If you want to stick around for lunch, stop by the clubhouse and enjoy golf-themed appetizers like the mulligan mozzarella sticks and entrees like the bogey burger.
To stay up to date on all their events, mini-golf league tournaments, and new homemade ice cream flavors, follow Hickory Hill Mini-Golf on Facebook.
Rogues' Roost Golf Club
For a round of golf against a beautiful natural landscape, tee off at Rogues' Roost Golf Club. Their pristine grounds lead right up to the shores of Oneida Lake.
With two courses to choose from, you're sure to get some variety when you head out to play 18 holes. Both the east and west courses are covered with upstate New York's best foliage, so you'll feel at home in nature while you play.
Feel free to relax in either one of their two clubhouses after your round, too. Each one offers a comfortable, casual atmosphere to make you feel like a regular.
Take your time before hitting the back nine with a delicious lunch. There's full deli wraps and sandwiches available, plus take out service if you want to grab something at the end of the day.
If you feel like you want to become a regular, no problem! It's easy to join a league and play competitively.
Follow Rogues' Roost Golf Club on Facebook for course updates and news on upcoming events.
Northern Pines Golf Club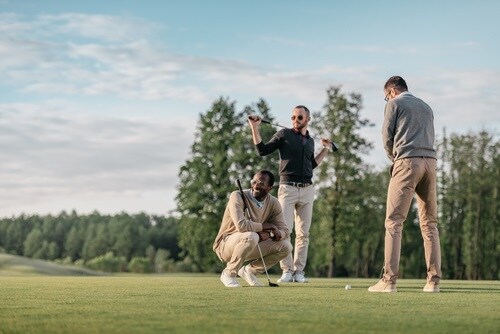 If you want a choice between two public courses that are maintained like a private country club, visit Northern Pines Golf Club.
With a diverse selection of holes that showcases both a traditional Scottish links style and parkland setting style, you'll be able to challenge yourself to improve your game. Throughout all the greens and fairways, you'll find a mix of perennial ryegrass, bluegrass, and fescue.
They know that working on your game is a year-round endeavor. That's why the course is open all year. If you're not interested in heading outside during the winter, you can enjoy some fun indoor golf or just come hang out with your golfing buddies for a laid back cornhole tournament in the clubhouse.
You can even get the experience of the driving range from the comfort of the indoors with their golf simulators.
To learn more about their tournaments and upcoming events, follow Northern Pines Golf Club on Facebook.
Get Your Golf Shoes On
Whether you've been golfing for years or just always wanted to try it, these courses offer you and your Dad a great setting to spend the day together together. Check them out if you want to treat Dad gor a game of golf for Father's Day.