What is Wrong with My Engine?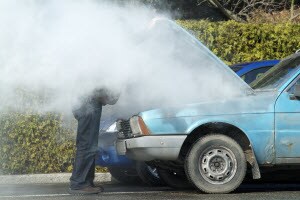 The three biggest concerns with your engine involve the service engine light illuminating on your dashboard, engine failure, and engine overheating. These problems can occur for a variety of reasons, including the ones we've listed here:
• A dead battery, failed starter, failed ignition switch, clogged fuel filter, or defective fuel pump can lead to engine failure.

• The service engine light can turn because of a misplaced gas cap, a failed electronic control module, a problem with the emissions control system, dead or missing spark plugs, or poor gas quality.

• A low coolant level, faulty thermostat, non-functioning cooling fan, disrupted radiator hose, or dirty air filter could lead to your engine overheating.
 
However, if you properly maintain your vehicle, you greatly increase your chances of preventing these problems from occurring. But if you do experience any of them, here are the signs for which you should keep an eye out.
Know the Signs of Engine Trouble in Syracuse NY
Generally speaking, when you know your vehicle isn't operating as well as it should be, it's imperative that you have it checked out immediately by a professional. Some signs that you may be experiencing engine trouble include the following:
•Exhaust problems
 
•General loss of power
 
•Difficultly starting the vehicle
 
•Vehicle shakes when the engine turns over
 
•Rough idling
 
If you're experiencing any of these problems with your vehicle, you should make an appointment at your local engine repair and service department near Oneida, Madison, and Syracuse, Bill Rapp Super Store Quality Pre-Owned. Our highly trained service technicians will be able to check over your vehicle, diagnose whatever may be causing your engine trouble, and provide a solution to get your back on the road both quickly and safely.
 
When you bring your vehicle to Bill Rapp Super Store Quality Pre-Owned, our service technicians will start by running a diagnostic test to determine the exact problem. Then they'll look at how each part of the engine system is working to see how the issue can be remedied. Once they determine that, they'll discuss their plan of action with you so you know what to expect.
 
Engine Service Syracuse NY
The best way to prevent your vehicle from needing any engine repairs is to get all of your regular maintenance done at the shop you trust. At Bill Rapp Super Store Quality Pre-Owned in Syracuse, NY, our highly trained service technicians can take care of all of your vehicle's maintenance and service needs, from regular preventive maintenance such as oil changes and engine tune-ups to major services such as engine repairs.
 
When it's time for your vehicle's engine maintenance, give us a call or visit us online to schedule an appointment.
Additional Resources:
Signs Your Timing Belt Needs to Be Replaced
How to Spring Clean a Car Engine
Symptoms of a Broken Throttle Position Sensor
Symptoms of a Bad Crankshaft Position Sensor