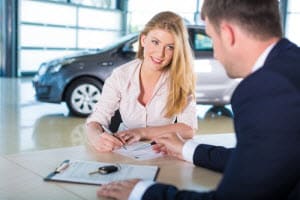 If you're shopping for a used car with no credit, you're not alone. In fact, many first-time car buyers shop for a used car simply for the reason that they don't have any credit and used cars are more affordable. 
However, just because you don't have credit doesn't mean you can't get an excellent vehicle with fair and affordable financing terms from your local dealer near Oneida, Liverpool and Syracuse. You simply have to know where to look.
What it Means to Have No Credit
Whether you're shopping for your first vehicle, or you simply haven't utilized the credit system in the past, you're likely going to find a little bit of a challenge in getting auto financing. And here's why: your credit score and report tell future lenders whether you're a reliable borrower.
If you don't have any credit (history of credit use), lenders can't tell whether or not you're going to be trustworthy in repaying your debt. Since lenders use your credit history to determine your level of risk, you'll automatically be in the "high risk" category. However, the first step to getting past this small hurdle is knowing where you stand, then figuring out how to get to the next step.
So You Have No Credit, Now What?
Just because you have no credit, doesn't mean you can't get an auto loan. In fact, it actually means you've got quite a few options to choose from that might put you a step ahead in your financial future. 
Why? Because lenders like to see installment loans paid off over time. They show that you're a responsible borrower and you'll be more likely to get favorable financing terms in the future. So you basically have three options when it comes to getting an auto loan with no credit. 
Option One: Have a large down payment
This option gives you the chance to show auto lenders that you're prepared for the financial responsibility of an auto loan by putting money down as leverage. If you stopped paying your loan, you would forfeit your down payment. 
Option Two: Try leasing a vehicle first
If you don't have the money to put down a large down payment, another option is to try applying for an auto lease. You can put down a smaller signing fee and work to build your credit until you're financially prepared to purchase a vehicle. You'll benefit from having a smaller monthly payment, but this option is usually only available with new vehicles. 
Option Three: Apply for a special financing loan
If you don't have the money to put down a large down payment and you're not interested in leasing a vehicle, then you might consider applying for an auto loan through a special lender who specializes in bad credit and no credit auto loans. You'll pay a slightly higher interest rate, but you'll have the opportunity to improve your credit through your auto loan and get a better rate in the future.
Where to Apply for a No Credit Auto Loan
When you're ready to start shopping for your next used car near Syracuse, Liverpool and Oneida, stop in to Bill Rapp Pre-Owned Super Store. Or start your journey today, apply for an auto loan online.