How Do I Check the Transmission Fluid Level?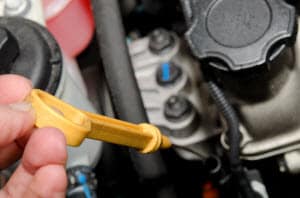 It's relatively easy to check your vehicle's transmission fluid level, and you should do this about once per month. To get the most accurate reading, you should check the transmission with the engine running after it's had time to properly warm up and while it's parked on a level service.
 
To check the transmission fluid level, do the following:
• Locate the dipstick under the hood. The handle is usually a bright color, generally yellow or red. If you're unsure where to find the dipstick, check your owner's manual.
• Remove the stick, wipe it clean, replace it, and then remove it again.
• There are labels for warm and cold. Check the reading for warm. If it's not full, slowly fill the reservoir a little at a time with transmission fluid and continue to measure the level with the dipstick. You should use a funnel and pour the fluid into the hole from where you pulled the dipstick.
• After filling, replace the dipstick, and after a few moments, remove it to confirm you've properly replenished the transmission fluid level.
 
When checking your transmission fluid, be sure to take notice of its color. Transmission fluid should be a pinkish-red color. If the fluid is brown, that's a sign there may be something wrong with the vehicle. If this is the case, you'll want to schedule an appointment at the service department at Bill Rapp Super Store Quality Pre-Owned.

How Do I Check for a Transmission Fluid Leak?
If you notice that your transmission fluid level is irregular or low or you notice that your vehicle isn't running as well as it usually does, you should check for a transmission fluid leak, which can be done quickly and easily.
•Place a large piece of cardboard under the vehicle when it's not running.

•Start the vehicle and wait a few minutes for the car to heat up.

•Check for any noticeable red or brown spots on the piece of cardboard.
 
If you notice such spots on the cardboard, your vehicle likely has a transmission fluid leak. You can easily remedy this problem at your local automotive service center near Syracuse, Oneida, and Madison, Bill Rapp Super Store Quality Pre-Owned.

Transmission Repair in Syracuse NY
The transmission is an integral part of your vehicle, and you need to treat it as such. You can ensure your vehicle, including your transmission, remains in proper working order by getting your maintenance done regularly at Bill Rapp Pre-Owned Superstore in Syracuse, NY. 
Our staff of highly trained automotive technicians is well equipped to handle all of your vehicle's maintenance and service needs, whether you need a transmission fluid flush, transmission repair, transmission replacement, or even just an oil change. 
Give us a call or 
schedule your transmission repair today
.
Additional Resources: