The time has come for your next car. And while you've dabbled in new models before, you're looking to get a little more bang for your buck this time around. So you're thinking of buying used.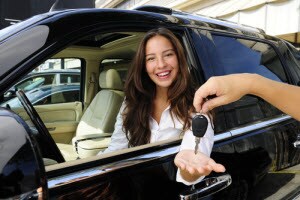 If you've never bought pre-owned before, you might have a few questions. These are the most common ones that the Bill Rapp Pre-Owned Superstore team receives from Syracuse, Oneida, and Liverpool drivers. Hopefully, they'll provide all the answers you need.
What should I look for when buying a used car?
Everyone's needs are a little different when it comes to buying a car. However, as rule of thumb, there are a few key things that you should always look for:
Cosmetics: Is the paint chipping? Are there any dents and scratches? Perhaps stains or tears inside? These will all affect the car's value.
Rust: Get down on your knees and check the underbody for this one. Rust on the frame is not a good sign.
Engine flaws: There's no shame in popping the hood and pulling out a few dipsticks. You can even give the belts and hoses a once-over.
Odd smells: You'll notice this one more once you're inside the car. The smell could be caused by a leak in the powertrain or it could simply be a sign that the previous owner smoked.
Ultimately, you're going to need to test drive the car. If anything feels or sounds off during that ride, you may have a bit of a problem.
Honestly, this one depends on the age. The average driver puts around 12,000 miles a year on their car. So do a bit of math. If you think the previous owner drove more than that, it may be an indicator or more expedient wear.
If the driver put a little under 12k on the car a year, that's good. Significantly less, however? That signals disuse, which could lead to just as many problems as extra mileage.
There are three parts to this answer, if you're looking to get the best deal possible:
Time of year: November or December. New inventory will be arriving, and dealerships will be looking to clear some stock. Not only that, but they should have great deals going on for the holidays too. 
Time of month: End of month. Sales consultants are looking to meet personal monthly goals, which means they may really need another sale or two under their belt.
Time of week: Tuesday or Wednesday. This is typically the slowest part of the week at a dealership, so the staff will be extra happy to see you.
How do I buy a used car from a dealer?
Want to know the best thing about buying a used car from a dealership? It's really not different from buying new. The dealership takes care of the logistical and financing end of things, and you just sit back and let them know what you want.
Finding the value of a used car isn't hard. All you have to do is subtract the depreciation it incurred during previous ownership (as well as the value of your trade-in).
Mileage and condition will naturally impact this number, as some people might wear a car far harder in three years than the next person. However, to get a good measure of this, you can easily check online resources like Kelley Blue Book®.
Have Any More Questions About Buying Used?
When shopping with a dedicated used car dealership such as Bill Rapp Pre-Owned Superstore, things are transparent. We make buying your next used car as easy as possible.
Nevertheless, Syracuse, Oneida, and Liverpool drivers may still have a few questions. In which case, feel free to contact us today!
What is Good Mileage for a Used Car?
New vs Used: Which is Best for You?