Remove the Old Wipers
• To remove the old windshield wipers, pull the wiper away from the windshield so it stands without your assistance. Because the wiper arm is made of metal, you'll want to be careful not to scratch your windshield.

• Use one hand to hold the arm and the other to depress the small tab located on the underside of the wiper where it meets the metal arm. Slide it off by pulling from the center toward the bottom of the arm.

• Once removed, gently place the arm against the windshield. To prevent any damage, make sure that the wiper doesn't snap back. 


Replacing Old Wiper Blades

•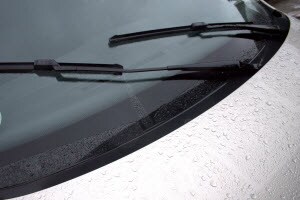 Line up the two pieces to ensure it will easily click on.

• Look at the side of the blade that attaches to the arm. There you'll see that it's flat and has a curve across the top. Rotate this clip until the curve is pointing toward the wiper blade.

• Hold the wiper upside down next to the arm where they match up and put the arm between the sides of the wiper.

• Make sure the open end of the curve is facing the clip and then pull the wiper upward so the rounded edge slides into the hook. Pull it on tightly to click it into place.

• Gently place the new wiper blade back against the windshield.

And voila! You're finished!

You can help your windshield wipers work more effectively by keeping your windshield clean. Try to avoid scraping your wiper blades over grit and grime as well as over ice and snow. Your wiper blades are meant to wipe away rain and light debris, but anything harder than that can damage them.
 
You can extend the life of your windshield wipers by lifting them up in freezing conditions so they don't freeze to your windshield, always defrosting your windshield before using your wipers, and removing any debris before using them, such as pine needles, leaves, and seed pods.
 
Another helpful trick is to try to avoid parking in direct sunlight since the excessive heat can cause the rubber of the blades to wear more quickly.
 
Ready to get a new pair of windshield wipers? Call the parts department at Bill Rapp Super Store Quality Pre-Owned in Syracuse, NY, today at 888-331-0048 and let us know what you're looking for!
Additional Resources:
4 Signs It's Time for a Windshield Wiper Replacement
How to Change Windshield Wipers